In this article we are going to cover OverScan and connecting the raspberry pi to the TV for CEC communication.
OVERSCAN
By default all TV's have a setting that is called OverScan, in simple terms your screen is in zoom and some of the picture may be cut off. We want to disable this prior to install. Every manufacturer calls it something different for this article we will be using the naming as it is referred to by Insignia.
With your remote select MENU
Arrow down to Advanced Settings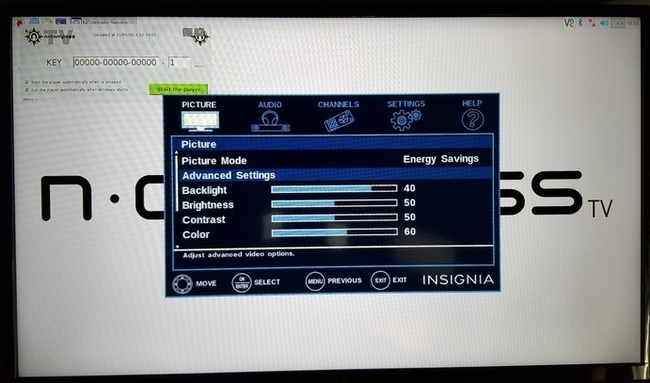 Select Overscan press ENTER and select OFF then ENTER and EXIT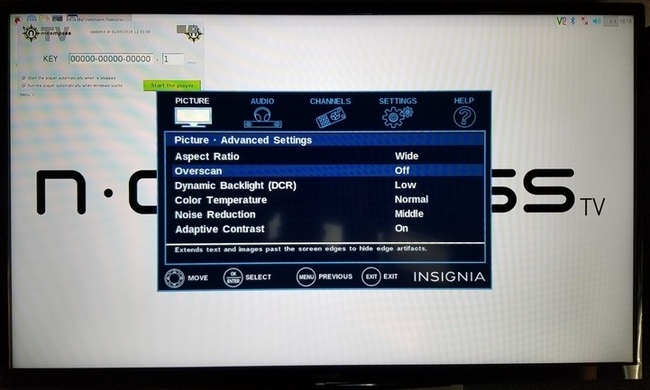 Double check your settings to make sure everything is as you selected.
Using InLink to sync the Pi
The purpose of this setting is to allow the Pi to turn ON the TV if the TV is OFF. If the TV is OFF when the Pi reboots it will turn ON the TV. Great to have when the Pi is set to reboot everyday or if you have the SmartPlugs connected to the Pi's allowing for a reboot from your phone app. This is ONLY if the Raspberry Pi is using it's own power source from the power socket NOT USB.
First step is to change the settings of the TV AUTO POWER ON by default this is usually OFF.
With your remote select MENU then arrow over to the SETTINGS tab at the top
Arrow down to InLink press ENTER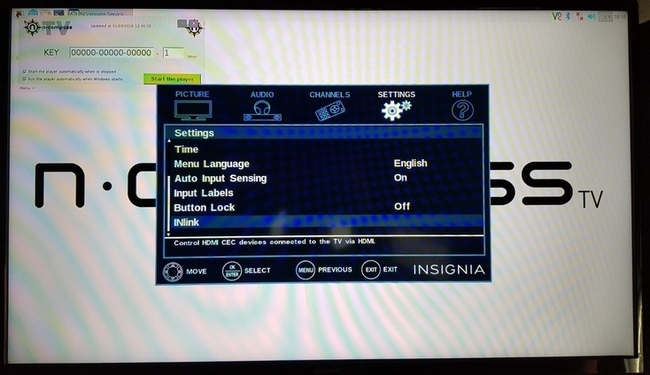 Then down to TV AUTO POWER ON and press ENTER and select ON then ENTER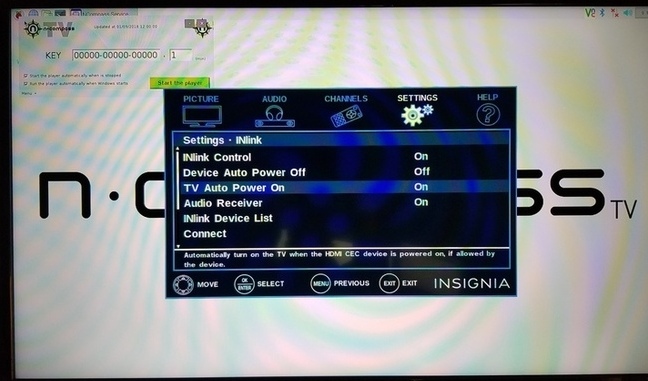 This setting is saying if I see the connected device (the Pi) then I should turn ON.
InLink CONNECT
With your remote go to SETTINGS arrow down to InLink press ENTER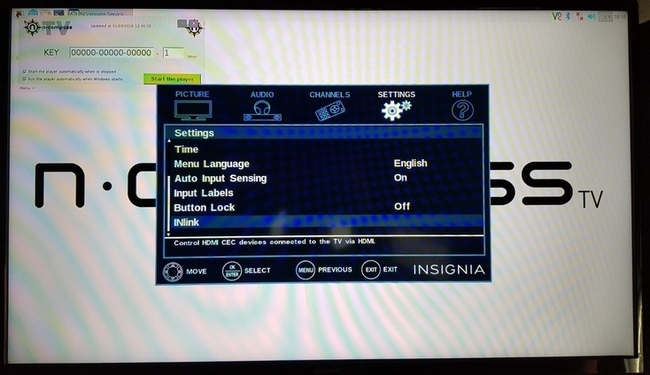 Arrow down to Connect then press ENTER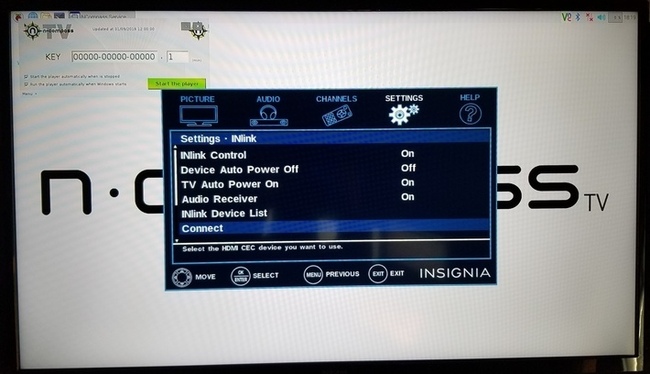 You should get a SCANNING image and once completed it should recognize the raspberry and show it as below.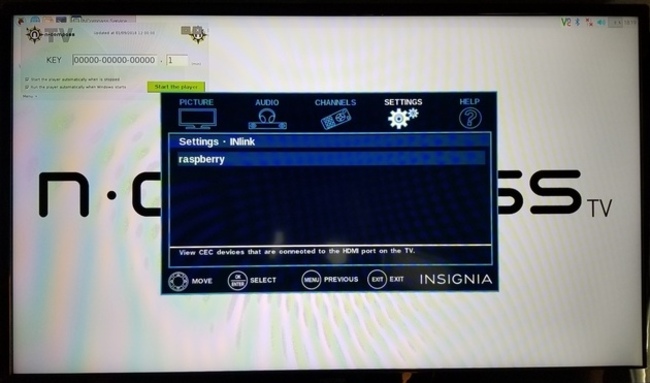 IF YOU DO NOT GET A DEVICE READING SUCH AS RASPBERRY THEN TURN BOTH THE TV AND THE PI OFF. TURN ON THE TV FIRST THEN THE PI THEN REPEAT THE PROCESS ABOVE AND IT SHOULD COME UP CORRECTLY. IF IT DOES NOT NEXT STEP WOULD BE TO REPLACE THE HDMI CABLE (cables must be CEC ready, most are but there may be a chance the one being used is not). IF THAT STILL DOES NOT WORK WE CAN TRY TO TROUBLESHOOT WITH YOU ON THE PHONE BUT THERE MAY BE A HIGH CHANCE THAT THIS FEATURE WILL NOT BE AVAILABLE WITH THIS SET UP.
If the above device is showing the next step is to test it!
Turn OFF both the TV and the Pi
Turn ON the Pi only
TV should turn ON!
If TV does not turn ON repeat the process above when looking for a Connected device within the InLink settings.
If you are interested as to what is Overscan you can read more here.
If you have a LG TV click here.